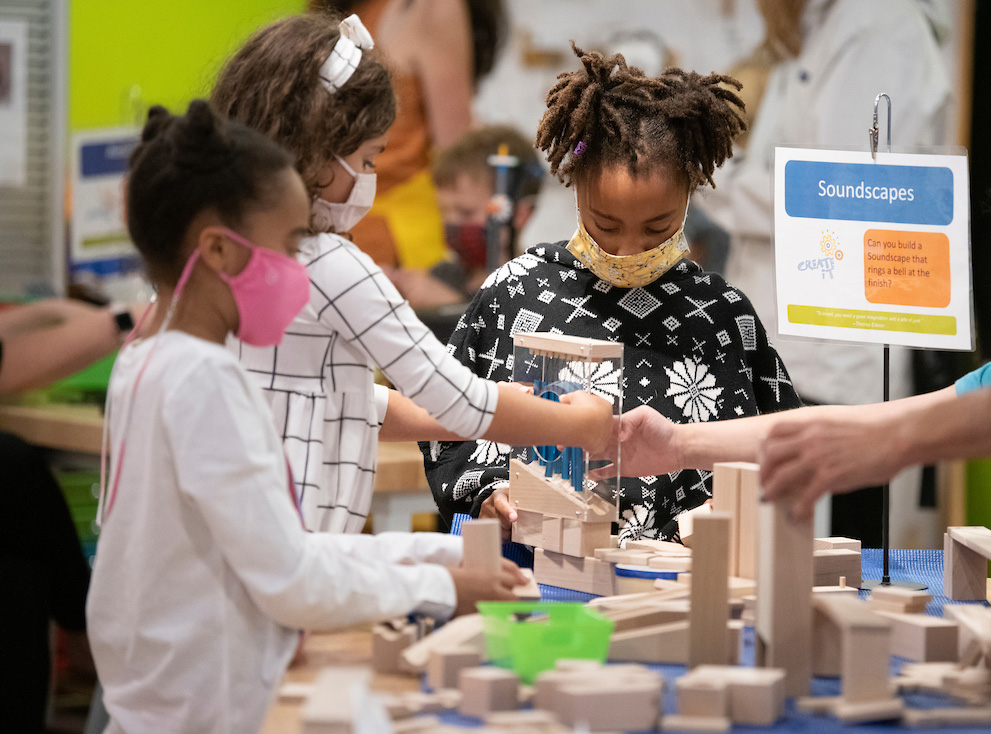 Wednesdays-Sundays: Noon to 4 pm
Spark!Lab
Kids experience the spark of invention in this dynamic space, where learning and play come together.
Note: Spark!Lab will be at the Morristown Festival on the Green on Sunday, October 2 from noon to 5 pm. It will be closed at the Museum that Sunday.
Timed tickets are available at the front desk.
Wednesdays-Sundays: Noon to 4 pm
Ages 5-12 years old
Spark!Lab offers any child (and accompanied by an adult), a new informal approach to hands-on learning. Created by the Smithsonian, Spark!Lab ignites kids' ingenuity with fun, hands-on challenges. Instead of following instructions, kids tap into their natural creativity to tackle engineering and design challenges in Spark!Lab's projects stations.
As the only Smithsonian affiliate in New Jersey, the Morris Museum is proud to share the Smithsonian's cutting-edge educational resources with your family. The tenth Spark!Lab in the nation, this dynamic learning space inspires kids to create, collaborate, and innovate—and makes every young visitor an inventor.
---
Young Inventor Space
Specially designed for our youngest inventors (Ages 1-4), Spark!Lab's new Young Inventor Space features a train and an exploration table filled with unique tools to spark creativity and learning.
---

Spark!Lab Inventor Challenge
Extended through September 30
This summer, young inventors will be issued a free Spark!Lab passport during their summer visits to the lab. With each visit they will acquire a stamp and with six stamps they will complete the challenge and earn an exclusive prize. The first ten inventors who complete this challenge will receive the You Topia moving diorama makers kit (pictured above)! Other prizes include a Spark!Lab journal and more! Completed passports will be displayed in the Spark!Lab. Prizes will be awarded, while supplies last.
---
Spark!Lab at the Morris Museum is made possible by leadership support from BASF. Generous support is also made possible by Gay H. Osborn on behalf of the Blanche and George Jones Fund, Inc.