This event is Canceled
Alea is a progressive and pioneering artist delivering messages of love, connection and Latinx empowerment.
Her original compositions summon lush, vibrant landscapes from La Guajira, Colombia to Bronx, NY. Buttery vocals, holistic guitar conversations and riveting sax solos evoke a "tropical wave" according to Cultura Colectiva (A leading digital magazine specialized in culture and Latinx content from Mexico City). Alongside brilliant performers Sinuhé Padilla-Isunza, Franco Pinna and Berta Moreno, Alea delivers a high-energy program with unforgettable, deep-rooted groove. Seamlessly blending Cumbia, Vallenato, Ranchera, Jazz and Pop, Alea connects a diverse soundscape with New York City edge. Get ready to dance and sway to an infectious, soulful, Afro-Latin sound.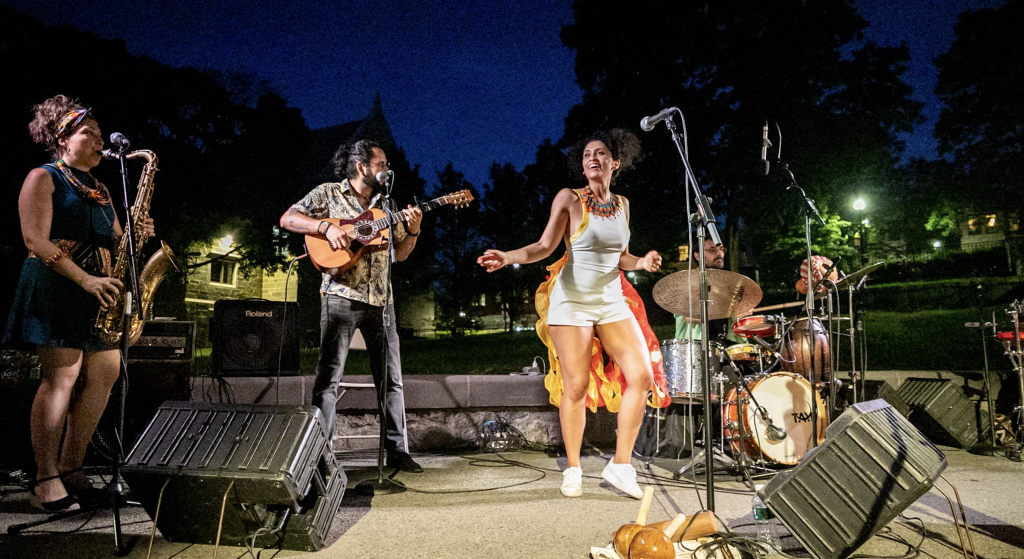 Bring your own chairs and refreshments and enjoy live entertainment atop the Morris Museum's elevated parking deck. Stunning sunsets, social distance, and glorious live music combine for a series of unforgettable evenings.
In the event of inclement weather, outdoor performances will be held inside the Museum's Bickford Theatre. Masks are required while in the Bickford Theatre.
Ticket & Visitor Information
All blocks are $50 for an 8'x8′ block which accommodates up to 2 patrons. Patrons are welcome to arrive as early as 6:30 PM to set up and enjoy the evening sun. For assistance and to make purchases by phone, call the box office at 973-971-3706.