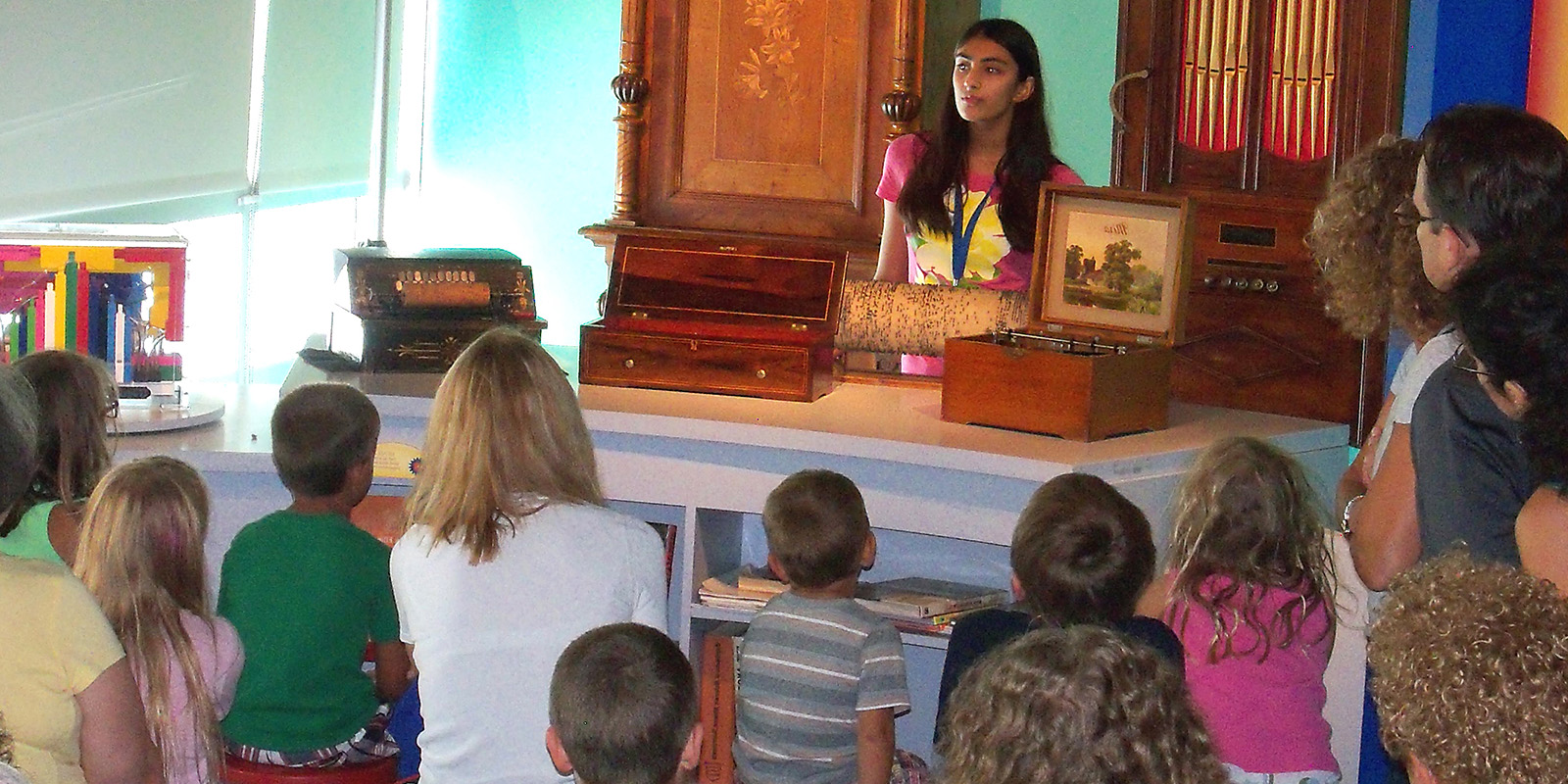 Daily Guinness Collection Workshop Demo
Daily Demos at 2 PM. Free with Museum Admission
See, hear, touch, and explore! The Guinness Workshop is open to museum visitors with daily demonstrations of mechanical musical instruments in an interactive setting.
Investigate technological advances in 19th-century programmed media—such as pinned cylinders, perforated metal discs, and punched paper rolls—that allowed music to be played by machines instead of humans. Marvel at our most recent acquisition, the 1876 Salon Barrel Orchestrion by Bernard Dufner, and create your own mechanical musical score on our 'punch-a-tune' Pling-Plongs! The workshop is perfect for visitors of all ages.
Continue your visit with a demonstration of mechanical musical instruments collected by Murtogh D. Guinness. The music boxes and other devices made for wealthy patrons from around the world towards the end of the 18th century, stand as living documents of the overtures, waltzes, and folk music of that time. By the late 19th century, the disk music boxes show a shift to a broader audience and the democratization of music, as mechanical devices became more affordable to the middle class. In the 1890s, disc box production expanded from Germany and Switzerland to the United States, where New Jersey became the home of American music box production.
The collection includes numerous instruments made in Jersey City, Rahway, and Bradley Beach. After the workshop, don't forget to watch our Guinness Gallery orientation film and stroll past Parisian shop windows displaying a portion of our automata collection. Like the mechanical musical instruments in the collection, the French-made musical automata in the Guinness Gallery represent a rarely seen European decorative art, in a broad array of styles, showcasing the talents of their makers.
The Morris Museum's collection is one of the finest of its type in the world, in terms of breadth and depth, and constitutes one of the largest public holdings of automata in the United States.