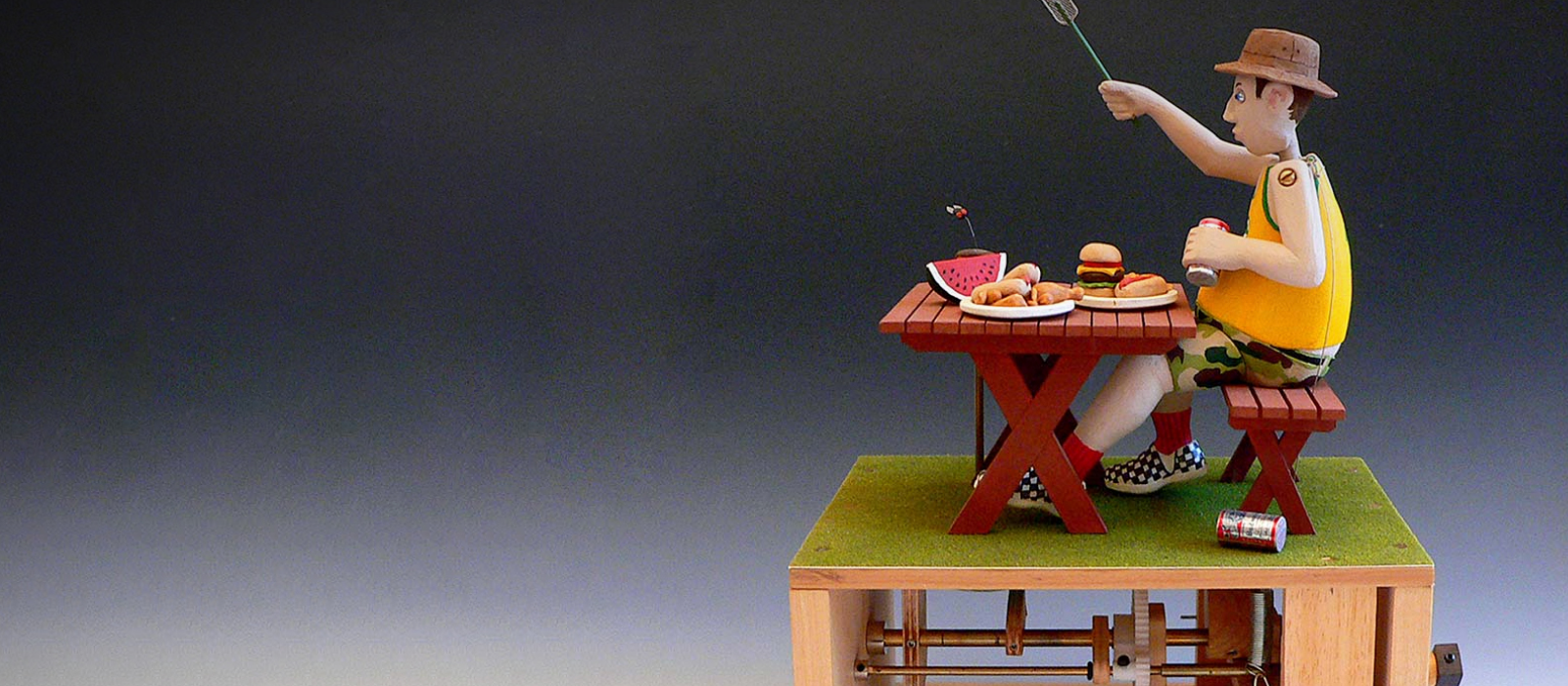 March 18, 2022 – August 28, 2022
A Cache of Kinetic Art: Timeless Movements
The exhibition, A Cache of Kinetic Art: Timeless Movements, explores broad themes of the human experience and how time manifests in nature through 35 works of kinetic art.
Created by 26 artists, these art objects are expressions of measuring, marking, embracing, and resisting time. This is the fourth and final installment of A Cache of Kinetic Art launched in 2018 with Curious Characters. Timeless Movements will be on view from March 18 through August 28, 2022. There will be a Member Preview on Thursday, March 17 that includes an exhibition viewing from 6-7 PM and an artist talk in the Bickford Theatre from 7-8 PM.
"In 2017, the Murtogh D. Guinness Collection staff first envisioned a four-part series, designed to provide exhibition space for artists responding to our challenge to connect contemporary audiences with 19th-century mechanical music, automata, and timekeeping technologies. Since that time, nearly fifty artists have shared their interpretations of 'art-in-motion,' embracing a variety of methods and materials," stated Dr. Anne Ricculli, Curator of the Guinness Collection.
Open to established and emerging artists, this juried exhibition explores a range of artistic talent, inventiveness in design, and a mastery of technique. Timeless Movements bridges the gap between vintage and contemporary kinetic art allowing visitors to experience the creativity of these newly created pieces in conjunction with the Morris Museum's historic and internationally-significant objects in the Murtogh D. Guinness Collection of Mechanical Musical Instruments and Automata.
Included in the exhibition are 35 works by 26 national and international artists. The selected artists are: Miron Abramovici, Ginger Andro, Lawrence Berzon, David Bowman, Mackenzie Bullard, Ryan Buyssens, Yu Chenrui, Randall Cleaver, Michael Croft, Kyle Dries, Bill Durovchic, Glen Farley, Hao Feng, Chris Fitch, Daniel Fulco, Chuck Glicksman, Joshua Hudak, Bernard Klevickas, Sizhu Li, Bradley N. Litwin, Dina Priess dos Santos, Walter Rossi, Justin Schactman, Glenn W. Smith, Eliza Twichell, and Wade Warman.
A team of esteemed jurists brought their unique perspectives to judging this exhibition: Marion Harris, New York & London, UK: Private antiques dealer and curator; Michael Clerizo, London, UK: Journalist and author on watchmaking, and contributing editor for WSJ, Magazine; and Steven Parker, New York: Jewelry and automata designer/maker and Professor at the Fashion Institute of Technology (FIT).
Leadership support for this exhibition is provided by Will and Mary Leland.