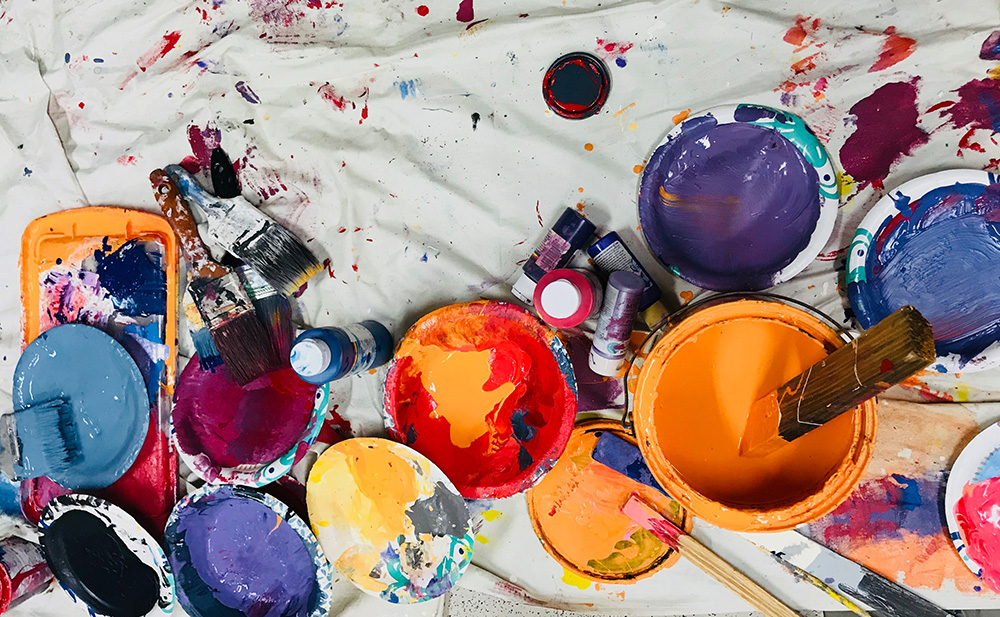 Studio Art Department Policies
Our Policies
Registration
Once you have registered, the Arts Coordinator will reach out to you with further information about seat availability and payment options.
To ensure a seat, and that classes will not be canceled due to low enrollment, registrations should be received no later than 1 week prior to the course start date. After that time, prospective registrants must call the Studio Art Coordinator at 973.971.3714 at least 24 hours beforehand to check availability.
Morris Museum reserves the right to cancel any class before the start date. If for any reason a course is canceled, all registrants will be notified about a week prior to the start of the course.
If you have questions about classes or registration, please contact: Phone: 973.971.3714 ask for Arts Coordinator, Kailyn Cavaluzzo at [email protected]
Payment
Children's Classes
Children's classes are paid online at the time of registration through the link in the class description. If a different payment method is required, please contact the Arts Coordinator at [email protected] or 973.971.3714.
Adult Classes
Payment must be received PRIOR to the start of the course date to confirm your registration unless special arrangements with the Studio Coordinator have been made.
Prorating is not available.
Select classes will have an additional supply fee to be paid to the instructor upon arriving at the first class.
If you wish to cancel your registration, the Studio Coordinator must be notified at least 1 week prior to the start date. Payments on cancellations after that date will not be refunded, and will still be required.
Payment Options
Check made payable to Morris Museum 6 Normandy Heights Road Morristown, NJ 07960 Attn: Studio Art
Credit Card (Visa, Amex, Discover, MasterCard)
Cash
Gift Certificate
Gift Certificates
Gift certificates are available in any denomination and can be applied to a course of the recipient's choosing.
Gift certificates expire 12 months after the purchase date.
Make-Up Classes
Classes that are canceled due to holidays, instructor absence, inclement weather, or other circumstances will be made up at the end of the quarter and coordinated by the instructor.
Students who miss class on their own accountability, will not be issued a refund unless special arrangements have been made with the Studio Coordinator in advance.
Weather Related Cancellations
Please call the front desk at 973.971.3700 by 8:00 AM and throughout the day for delayed openings and closing announcements due to inclement weather.
Student Property
The Morris Museum is not responsible for artwork or property left on the premises, and has no liability if a property is lost, stolen, or damaged, with the exception of displayed exhibitions.
If an item has been left behind, please call the front desk at 973.971.3700. Students are also welcome to check the Museum's Lost & Found area, located in the entrance pavilion.
Any artwork left at the museum at the end of the quarter will be discarded.
The Museum does not have available space for artwork and personal supplies to be stored during the quarter, therefore, students are responsible for transporting their materials to and from class
Facility
Operating Hours: Monday-Tuesday: Closed (select courses run on Monday and Tuesday mornings and afternoons)
Wednesday-Sunday: 11:00am-5:00pm
Members-Only Opening: The museum is open at 11 AM on the first Tuesday of every month.
Students may arrive up to 10 minutes prior to the course start time to set up. If a class is being held on a Monday/Tuesday, students are asked to travel directly to and from the designated classroom as the museum is otherwise closed.
All students must check-in and out at the front desk upon arriving and leaving.
Due to other scheduled events, students must leave the classroom immediately after class.
Class location may change throughout the course duration.
Students are responsible for setting up and cleaning up their materials unless special arrangements have been made between the instructor and Arts Coordinator.
For Adult Classes, borrowed supplies are limited to easels, clipboards, rulers, paint brushes, and water cups. If materials outside of those listed are needed, please alert your instructor to call the Arts Coordinator at 973.971.3714. Please be aware, that not all requested items may be available, therefore, students are advised to bring all necessary materials with them to and from class.
Children's Classes
Guardians must accompany students in and out of the building for drop-off and pick-up.
Instructors will accompany students to the entrance pavilion for pickup. Guardians are to arrive 5-10 minutes prior to the course's scheduled end time.
The guardian must alert the instructor and Studio Coordinator in advance for early pick-ups or if the child is being picked up by someone other than the drop-off guardian.