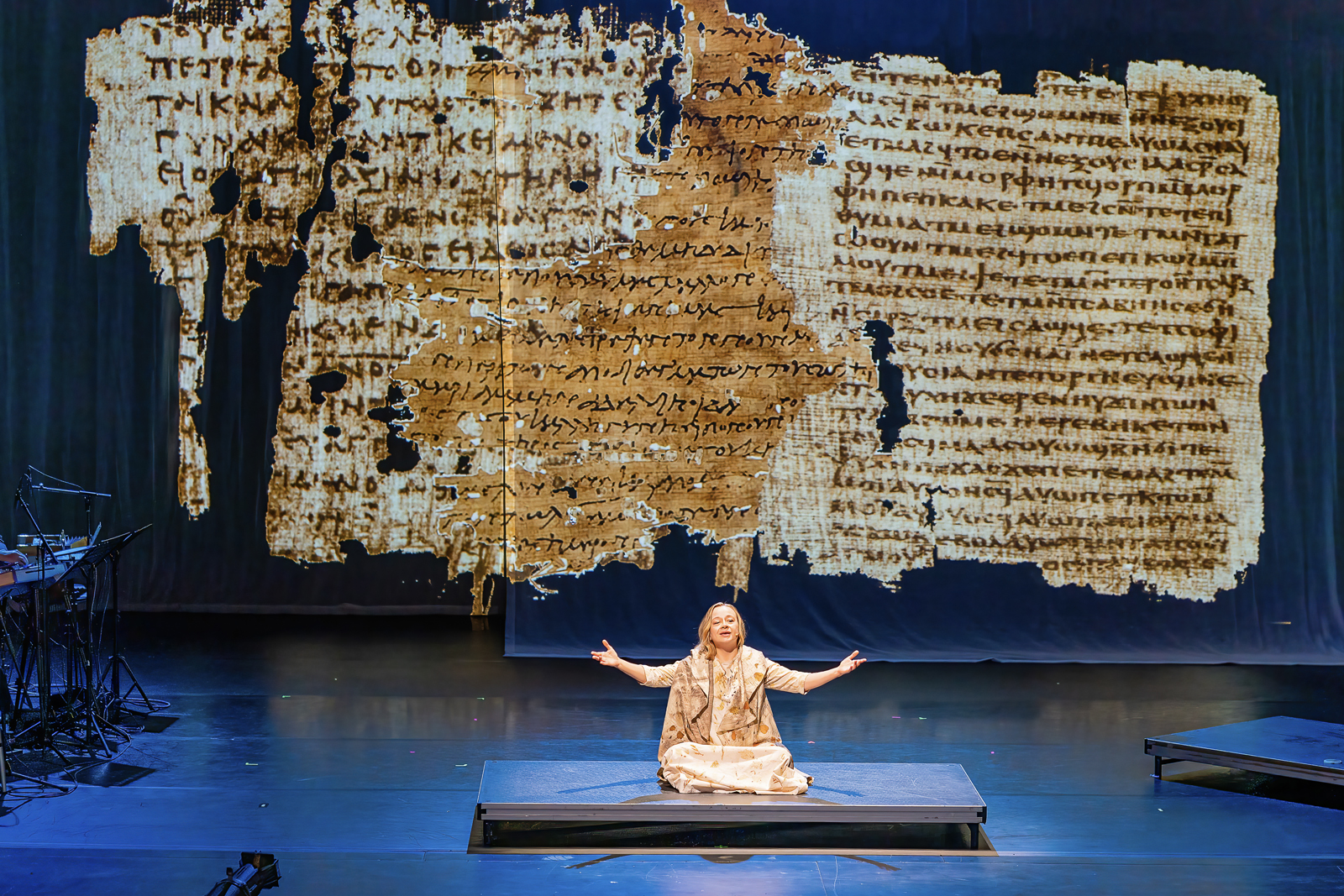 November 4, 5, and 6
I am the utterance of my name: Divining Mary Magdalene
"Silenced as an apostle and framed as a prostitute, the manipulation of Mary Magdalene's story was meant to undermine women's leadership centuries ago, and its effects still shape our reality today."
—Sylvia Milo
From the creators of The Other Mozart comes a new music-theater piece about the web of clashing myths, beliefs, symbols, and decrees surrounding the life of Mary Magdalene.
Playwright/performer Sylvia Milo and composer/percussionist Nathan Davis will give the World Premiere of their latest collaboration, I am the utterance of my name: Divining Mary Magdalene, which was created partially while in residence at Live Arts at the Morris Museum.
Equal parts theater, experimental music performance, and ritual, the artists draw on a multitude of texts and sources—biblical, Gnostic, heretical, medieval, and modern— to create a drama that unfolds in seven apparitions of Mary Magdalene, portrayed by Milo. Davis plays instruments both ancient and modern—hammered dulcimer, harmonium, and hand drums—interweaving live sound design with field recordings from sites significant to the mythology. For more information, see the performance's website.
Team Members
Created and Performed by Sylvia Milo and Nathan Davis
Directed by Sylvia Milo
Script by Sylvia Milo
Music and Sound Design by Nathan Davis
Movement Director: Janice Orlandi
Choreographer: Natalie Lomonte
Additional Movement: Joanna Kotze
Video and Projection Design: Monica Duncan
Costume Design: Magdalena Dąbrowska (Leaf dress and hood by Carlotta Frascara)
Lighting Design: Nick Houfek
Dramaturg: Jess Applebaum
Stage Manager, Hair and makeup: Kodi Lynn Milburn
Projectionist: Christine Sikking
Produced by Little Matchstick Factory, LLC
Ticket & Visitor Information
The Morris Museum has adopted a dynamic mask policy for upcoming events in the Bickford Theatre. Face masks are currently optional in the CENTER and HOUSE RIGHT sections (indicated in blue) and are required in the HOUSE LEFT section (indicated in red). Face masks are currently optional for Children's Theatre performances. This policy is subject to change at any time. Please check back on our website or call the box office for our current policy before your scheduled performance date. For assistance, call the box office at 973-971-3706.
Photo by Oihana Marco.